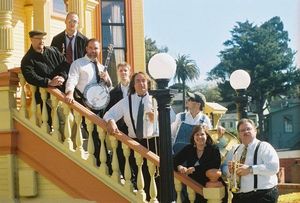 ABOUT
2023 marks the 40th anniversary of the Blue Street Jazz Band, a true force of integrity, stability, and professionalism on the Dixieland Jazz Circuit. The Blue Street Jazz Band was established in 1983 by trumpet player Forrest Helmick and is currently under the leadership of trombonist Dave Ruffner. The band features the singing of Sherri Colby. 
Blue Street has been one of the most innovative groups in traditional jazz. Original songs and creatively conceived arrangements have been the hallmark of the band along with the musical expertise displayed by each individual member on their respective instrument. Traditional jazz is the cornerstone on which the band was built, but with their eclectic musical taste and versatile musicianship, the band is adept at playing Swing, Mardi Gras, Folk Songs, Marches, Waltzes, Latin Music, and Hymns.  The band is capable of playing entire sets devoted to the music of Kid Ory, Jelly Roll Morton, Sidney Bechet, the History of Jazz, and Louis Armstrong.  Audiences particularly enjoy the band's Sunday morning gospel programs. 
The band has a mixture of full-time professional musicians along with some very accomplished part-time players. The front line features Forrest Helmick on trumpet, Dave Ruffner on trombone, and Nate Ketner on reeds. Forrest is an elementary music teacher in Fresno. You can find Dave playing trombone on Bourbon Street in New Orleans. Nate Ketner is a full-time professional musician in the Southern California area and is one of the best traditional jazz reed players in America. The rhythm section consists of pianist Jason Wanner, drummer Rick Canfield, bassist Sam Rocha and Matt Bottel on guitar and banjo. Jason is a highly sought pianist and jazz clinician. He performs at Disneyland with various groups. Rick is a retired music teacher. He builds fine stringed instruments. Sam is a full-time musician in the Bay Area and performs nationwide with the Hot Club of San Francisco and other groups. Matt spent time in New Orleans playing banjo and designs major computer programs for major corporations and state governments. The band's vocalist, Dr. Sherri Colby-Bottel, is the Program  Director and co-faculty, International Honors Program/A Program of SIT Study Abroad. 
Since the early 1990s, the band has played every major jazz festival in the United States and has performed in Canada, Mexico, and Europe as well. The band has recorded twenty-five albums and seven videos.